Wow, I can't believe it's been 3 weeks since Surtex already! Sorry it's taken so long to post my follow up blog post but between flying home from New York, to France and back for a family wedding and doing all my follow up, it's taken me a while to process it all!
Let me start with this, Surtex was an incredible experience. This time last year I was reading all my favourite Surface Pattern Designers blogs about their time at Surtex and just knew I wanted to be there the following year. So, in November I took a huge leap and applied to exhibit. For the 5 months that followed I worked non-stop creating new work, planning my booth, creating a new website, marketing, finding dream clients and much much more. Diving in meant I really had to learn on my feet, there was a lot of googling, spreadsheets and checklists, and I'm pleased to say there weren't too many disasters along the way!
Surtex is held in The Javits Center, a huge convention center located in Hell's Kitchen in NYC. The show is held at the same time as The National Stationery Show, The International Contemporary Furniture Fair and more great design and gift based shows.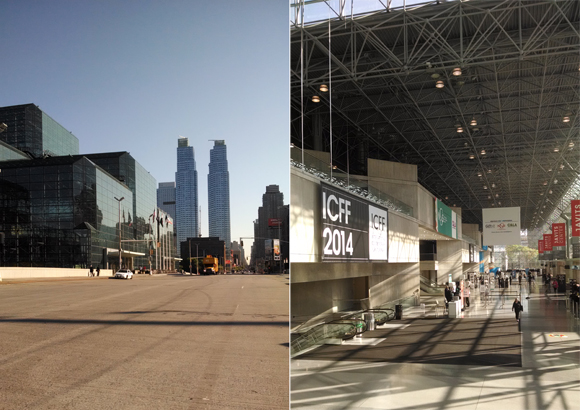 I spent a lot of time planning how my booth would look, having never been to the show it was hard to imagine how these things would look in real life. Luckily the booth measurements you are given are very accurate and there are lots of lovely people who have blogged about their experiences and given super helpful tips. At first I found it hard to decide how I wanted to make my booth look, but I was super pleased with how it turned out. The feedback I got on my booth design was great, and made all the time I spent working on it worthwhile. One of my favourite comments from a visitor was "I wouldn't have picked you as a first timer" which, as a first timer, was wonderful to hear!
One of the best things about the show for me, as a fairly new designer, was getting my designs seen and seeing that people liked, stopped for and got excited about my designs. Working on your own can leave you in a bit of a bubble, so it was great to see that the work I have been creating is something that people love and want to use on their products. I can't wait to get started to creating more and working together with great people I met at the show!
I loved being in my booth, it was wonderful being surrounded by my patterns, so beautiful and bright. Lots of people told me they could tell I poured my heart and personality into my designs and I felt so at home in my booth, I really didn't want to have to tear it down at the end of the show. Everyone else pulled down their booths so fast, and I just stood in my booth not wanting to take it apart or for the amazing experience to come to an end!
I want to say a HUGE thank you, to the wonderful Claire Lordon, who helped me out in my booth! Here she is in a gorgeous red dress that matched our fruity booth snacks perfectly..!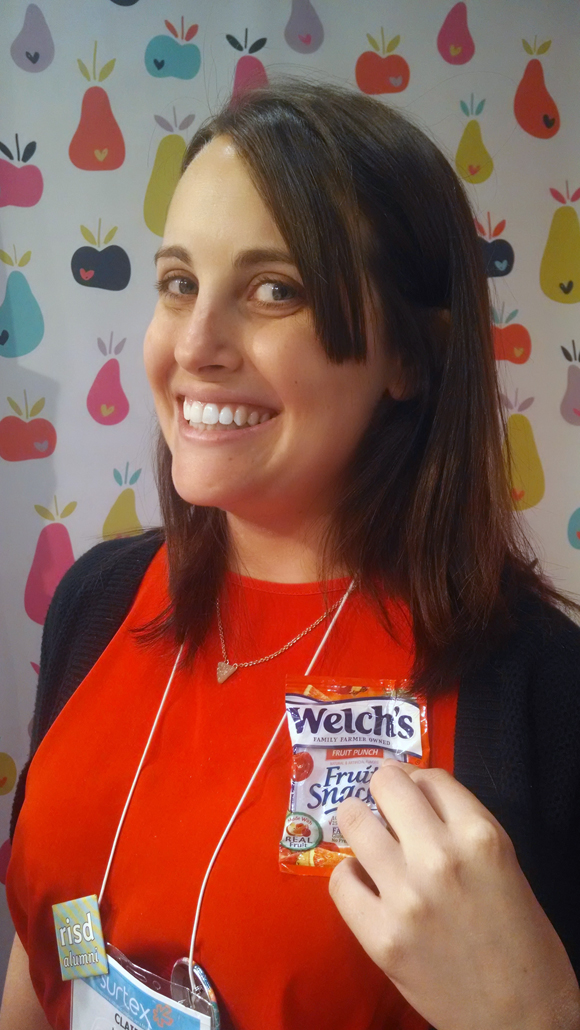 I also want to say thank you to my wonderful boyfriend, for supporting me throughout my journey to Surtex and for helping me set up and pull down my booth, I couldn't have done it without his tallness, carrying and IKEA furniture building skills and of course, his calmness and support!
So, Surtex, it was an absolute blast and I hope to see you again next year!
P.S If you follow me on Instagram and wondered what all the celebratory donut eating in my booth was about, here's a little story about. A friend of mine, Lara, has a great career celebration process where every time she achieves something she eats a donut. It's an awesome way of marking achievements, so I decided to give it a go, I mean who wouldn't want to enjoy a delicious donut after months of hard work and 2 long days of booth setup?! You can read about Lara's donut story here.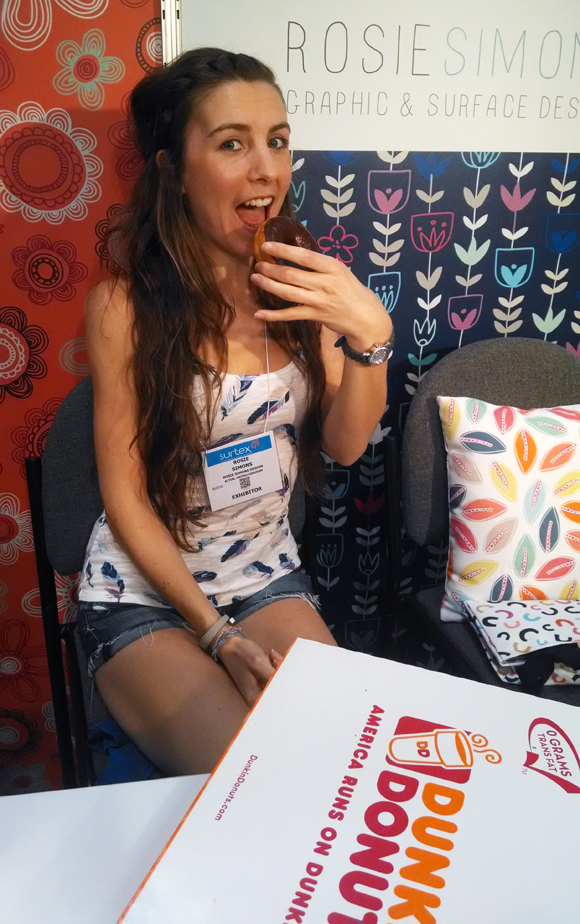 Images copyright Rosie Simons 2014